In the late 19th century, artists who had the chance to study in the cosmopolitan French system started to discuss the idea of painting and realism in terms of a universal pictorial language.
Ai Xuan and Andrew Wyeth
A beautiful example of the kind of cross cultural dialogue is the work of the contemporary Chinese painter Ai Xuan which is inspired and aims to respond to the work of the American artist Andrew Wyeth.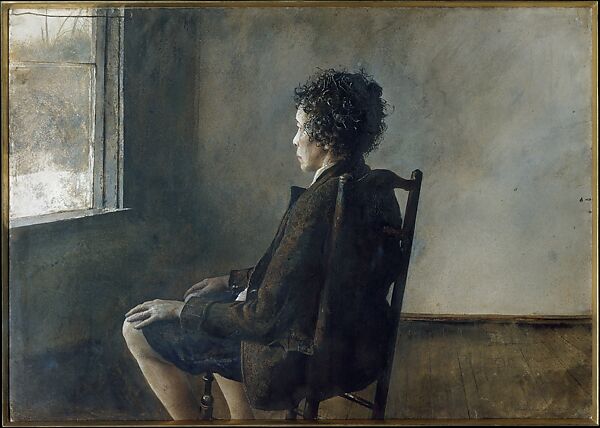 Xuan and many other Chinese realists were compelled by the relationship Wyeth built between his figures and the landscape. In both his landscapes and his portraits Wyeth shows his subject as subordinate to the grandeur of nature. Seated next to a window the subject of these portraits is not the sitter but the light. The light gives these images both a narrative and an emotional presence.
Cultural Identity
Wyeth was the son of one of the most important American illustrators, NC Wyeth (image 5). NC Wyeth helped define the myth of the cowboy at the heart of America's cultural identity. Andrew Wyeth strips his country scenes of all the grandeur and the myth of his father's work. His work is a humbling image of America and more generally our place as humans in the natural world.
Xuan came out of the Socialist Realist tradition. He trained and started his career making art that propagated a nationalist view of the communist state. This shifted with his fine art that looks at the Tibetan community and their close relationship to the land. Like Wyeth he is quietly deconstructing the myths of human self importance that defines his country's culture.
Seeing the work of these two artists together gives a western audience a window into Chinese culture. It helps us see a shared humanity. It also gives us a way to step back and look at our own culture from a different angle. We can easily identify propaganda from other cultures but we are not great at recognising the archetypes and images that have influenced our own cultural identity.