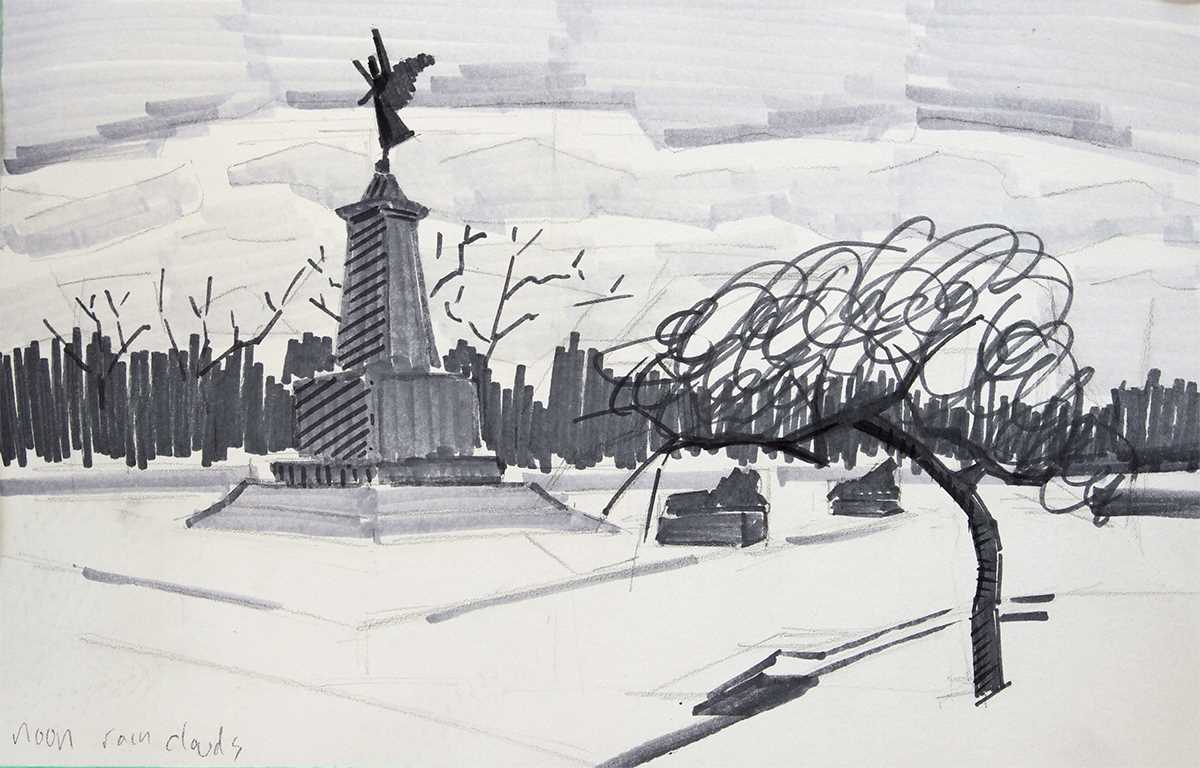 The goal of this project is to visually represent a theory of peace in practice.
Monuments are meant to stand as symbols of a shared history, but over the last decade these objects have become flash points and a cause of social division in cities across the world.
The central critique of monuments is that they present a limited – and often contested – view of history.
Project Description
I will present a series of images of Tiohtià:ke / Montreal monuments in the genre of the souvenir postcard. Without context, the viewer will not necessarily understand the histories these images evoke. These images go beyond the typical statues featured on souvenir postcards and represent a broad variety of monuments that represent our city. They evoke multiple histories – remembered, forgotten, and ignored – in Tiohtià:ke / Montreal. Without context, these monuments don't necessarily look like monuments at all.
To give context to these images, I am inviting a network of artists to respond to them. Artists will be free to mark up and alter the postcards to create a body of work that gives a shared and collective reading of our histories, a reading which includes a range of voices and perspectives in collaboration.
The cards will be presented suspended from the gallery ceiling and exhibited together as one monument showcasing a collection of stories, perspectives, and truths.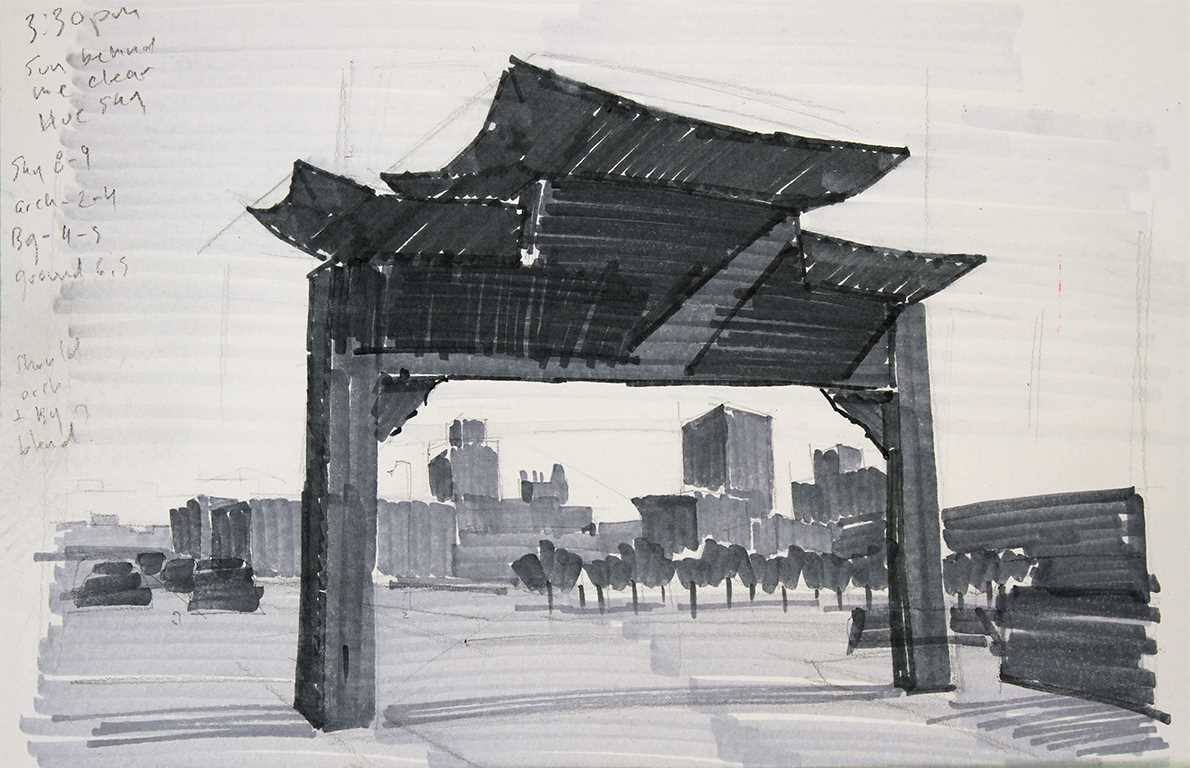 City Sketches
Last year, I explored the art and life of Rachael Robinson Elmer, an early 20th C artist best known for a series of fine art postcards celebrating the sites and monuments of New York City.
In response to Elmer's postcards, I produced a series of sketches of the monuments and sites from my own city, Tiohtià:ke / Montreal. In my process, I started to find my attention shifting to the role of these sites in the city. Monuments become metonymic in the postcard frame, but beyond a snapshot of tourism, what do these sites represent for local life? How do we live with them and their history?
From this research, I am producing a mail art project. I will be creating and mailing a series of postcards to a group of artists. My aim is to highlight the multiple histories that make up our city.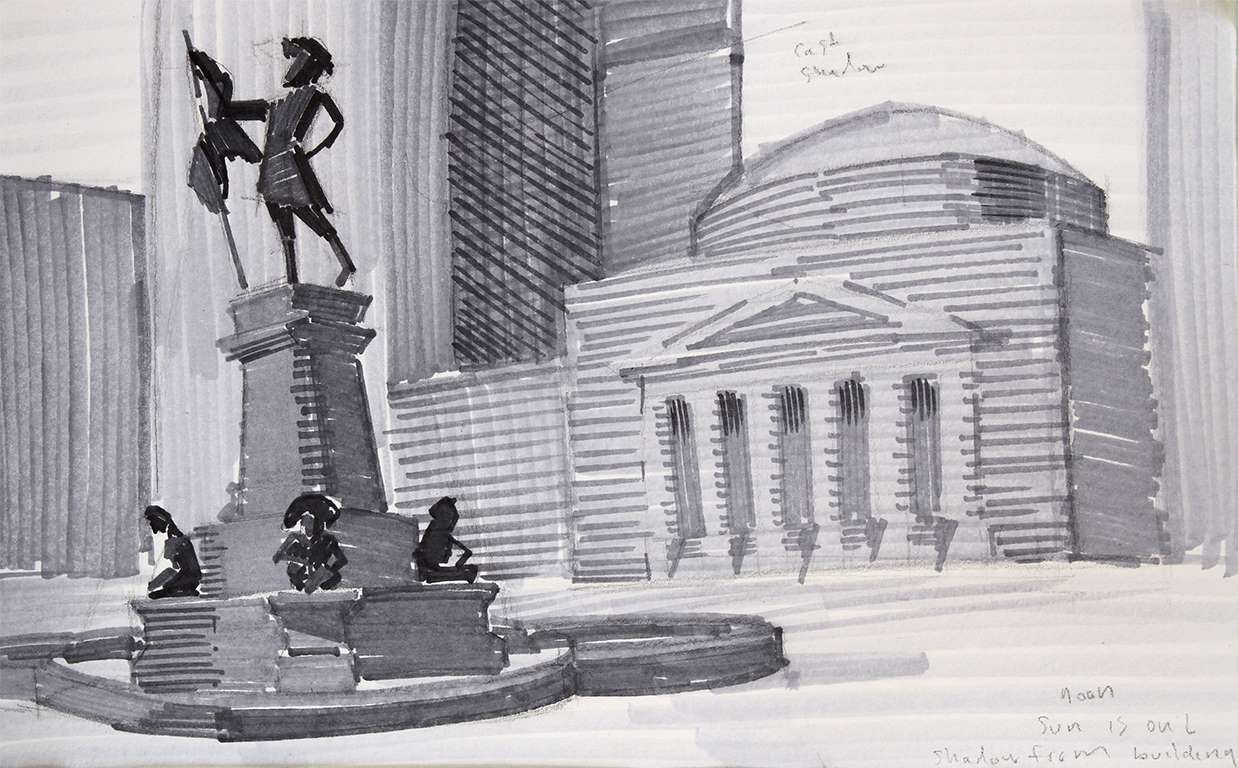 Call for Participation
I am looking for artists, writers and community activists to take part in a mail art project looking at the monuments (and non-monuments) of Tiohtià:ke / Montreal.
The project will take place from August to the end of October. Over a 12 week period, artists will receive a postcard on a weekly basis. Each card will feature an illustration of a local monument and artists will be asked to respond on the back or front of the card with their own art or writing inspired by the monument.
An exhibition of the project will be held at the BBAM! Gallery in December 2022.
Participants will be paid an honorarium (following CARFAC standards).
I am seeking participants, who, through their research or personal experiences, can broaden and question our understanding of Tiohtià:ke / Montreal's monuments and history.
Applications should include:
Cover letter describing the applicant's interest in the city's history and monuments and an overview of their artist practice (max 500 words)
CV
Support material (5 images, link to artist website, writing samples)
Please send all documents to courtney.clinton@gmail.com
Land Acknowledgement
I would like to acknowledging that my project takes place on unceded Indigenous lands. The Kanien'kehá:ka Nation is recognized as the custodians of the lands and waters on which we gather today. Tiohtià:ke/Montréal is historically known as a gathering place for many First Nations. Today, it is home to a diverse population of Indigenous and other peoples. We respect the continued connections with the past, present and future in our ongoing relationships with Indigenous and other peoples within the Tiohtià:ke / Montreal community
Research and production for this project are generously supported by a grant from the Canada Council for the Arts and the Conseil de la Culture de Saint-Hyacinthe. A presentation of the project is generously supported by the BBAM! Gallery.