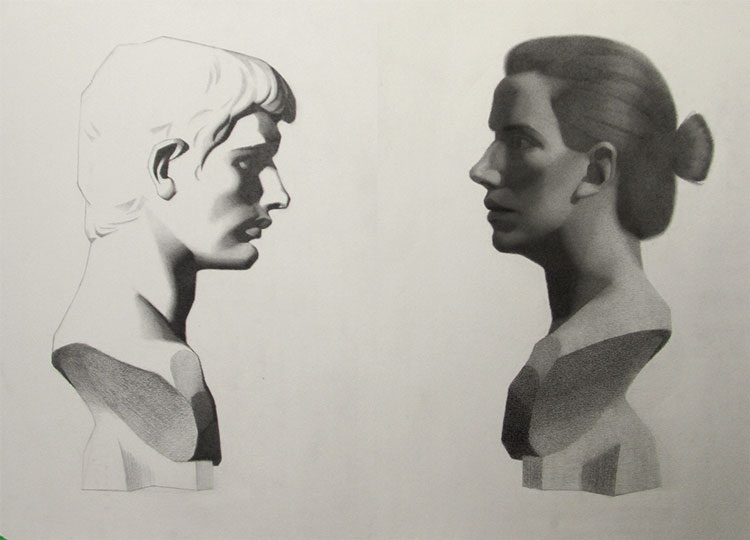 Artist Statement
The convergence of seemingly disparate moments in art history is a huge driving force in my practice. I studied classical painting at a digital video game art school. Video game art builds directly on the classical painting tradition, both in terms of technique and references. At first glance, my self portrait art might seem academic or even out of touch, but employing a classical medium and style to interrogate contemporary popular culture is central to my work.
I'm currently working on a series of self portraits called Selfie:  a project bridging historic portrait art with contemporary social media culture.
A deep relationship with art history is central to my practice. I'm particularly influenced by 19th century painting stemming from the French academic system: including Russian Realism, American Illustration, Canadian Impressionism and Chinese Country Realism. As part of my practice, I conduct self-directed research which I share on my blog, Graphic Traffic.
Using the vocabulary of social media and entwining it with art history in the Selfie series evokes a primary theme of my practice: inviting a broad, contemporary audience to look through the lens of art history as they engage with the art which surrounds us. This theme remains central to my work beyond Selfie, as I continue to seek out ways of creating which encourage experiencing art as a community practice, and which encourages an awareness of the ever-present influence of art history.
In 2017 I completed 4 years of study at the private art school, Syn Studio. My interest in figurative art took me to New York in 2017 where I was invited on a scholarship to participate in a month long workshop at the Grand Central Atelier. My work has shown across North America. Most recently it was selected as part of the TD Wealth – Thor Wealth Management Art Prize and the Bombay Sapphire Artisan Series.
Graphic Traffic
The title was borrowed from a term I first heard used by Ross King in his biography, Defiant Spirits, on the Canadian art movement the Group of Seven. It refers to the art and images that influence an artist's practice. Graphic Traffic is a blog documenting the images and ideas that inform my practice.
Art Advising Services
As an art consultant I bring a unique perspective to art. One that merges creative and business thinking. My analytical approach to buying art builds on my university studies in economics and my passion for painting is a product of my training as a classical painter.
To find out more about my advising services please visit : www.clintonartservices.com