I'm so thrilled to announce the launch of a new project, The Rokeby Distance Drawing Course! At once a digital exposition and an interactive piece, the project plays with rather than fights against the limitations of interactive artistic creation in the age of COVID-19.
As Artist and Residence at the Rokeby Museum, I am developing a new series of work that explores, activates, and shares the letters from a 19th century drawing course and the artistic journey of its student – a young woman who went on to become a pioneering female illustrator. The work is a meditation on knowledge and sharing as driving forces for connectivity and overcoming isolation.
You can read the first installment here: Rokeby Distance Drawing Course
Inspiration: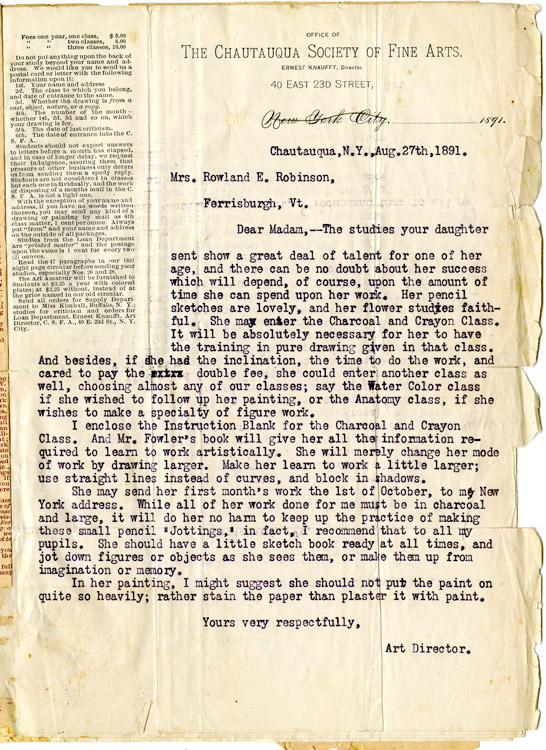 In September, 2019, I was invited to the Rokeby Museum to engage with their archive as part of a four day artist lab. From 1793 to 1961, Rokeby was home to four generations of the Robinson Family.
In the museum's archive of the family's letters and artifacts I discovered the original letters (dated 1891-93) from a correspondence drawing course that one of the daughters, Rachael Robsinson Elmer, took as an adolescent.
In March and April of 2020, I ran a series of instructional drawing demos from my Instagram Live as a way to test and think through different ways of using technology to present this historic material to a contemporary audience.
Research Residency:
As part of the research phase, the Rokeby Museum is supporting my work through digital access residency that is taking place over the summer.
Following COVID-19 guidelines, the residence takes place remotely. Collaborating with their Education Fellow, Allison Gregory (who lives on the property) I have access to the archives (art and letters of my main subject, Elmer). Gregory and I have a weekly meeting to ensure my access to the archive. In a lot of ways our collaboration mimics the form of the historic correspondence course that inspired the project.
Sharing my research: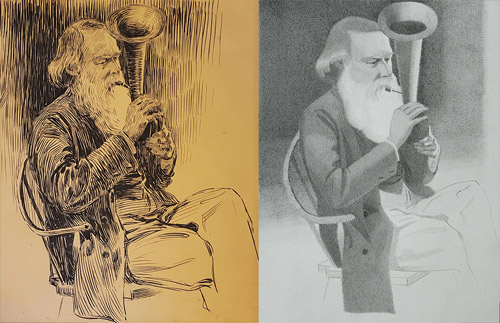 Catherine Brooks, the Rokeby Director, and I agreed that making this drawing course available now, during the COVID-19 crisis, will serve a real community need. We intend to share this archival drawing course freely on the museum's website.
From July 27 to October 5, 2020, we will post a new lesson on the website every two weeks.
Lesson Schedule:
July 27: Vision
August 10: Copying
August 24: Mistakes
September 7: From Life
September 21: Self Critique
October 5: Illustration
To make the material more accessible to a contemporary audience, I will supplement the historic material with images. As a Quebec artist, I am conscious of issues of language and accessibility. Adding visual guides to this material is also a way to make the material more accessible to a non-anglophone audience and expand the reach of this project.
How to participate: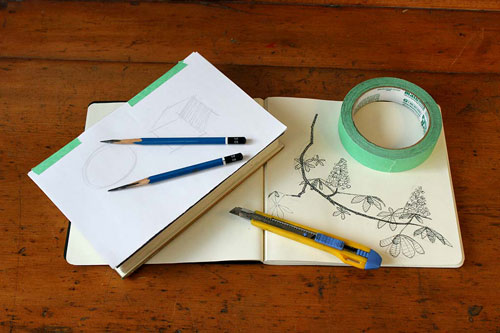 The course is meant for self directed learning. Students can join at any time and they can work through the exercises at their own speed. Starting July 27th until October 5th we will publish a new lesson every other week. For students looking for a little extra incentive we encourage them to treat it like a 12 week drawing challenge!
Each lesson includes a little history on the life of Rachael Robinson Elmer. We hope students will take inspiration from her artistic journey. To help students work through the exercise there are step by step drawing examples and a written explanation.
Materials:
To participate you will need a basic drawing kit.
6B, 2B and HB pencil. Recommended brand Mars Lumograph
Kneaded eraser
Pencil sharpener or exacto knife
A pad of 18" x 24" drawing paper. Recommended brand Strathmore
Drawing board
Course Level:
The course is open to anyone curious about learning to draw but is ideal for kids 15 to 17 interested in getting into an animation, illustration or game art program. I have experience working as an admissions advisor for a video game art program and have designed the exercises in a way that these drawings could be used for an art school portfolio.
Feedback:
To ask questions or get feedback share your work on instagram and tag @clinton.courtney and @rokebymuseum and use the hashtags #RokebyDistanceDrawing and #DrawingWithRachael.
You can also email questions and images to intern [at] rokeby [dot] org. We want to see your work!
Press
Pandemic art heroes, CBC Arts, March 25, 2021
The Distance Drawing Course, Making the Mark, September 8th, 2020
Rokeby Remote Learning Course, Gurney Journey, August 1st, 2020
Montreal artist teams with Rokeby Museum on art classes, WCAX Channel 3, July 24, 2020
Montreal artist creating remote residency in Ferrisburgh, Sun Community News, July 24, 2020
Support
I graciously acknowledge the support of the Canada Council for the Arts for making this project possible.