May is an exciting month for Canadian Art! At the end of the month is spring auction week in Toronto! Several of the top Canadian auction houses will be hosting live auctions of Canadian art.

About a week before, they open their doors to the public showcasing the work that will go up for auction. I love going to these previews because you get to see a lot of amazing Canadian art that isn't on display in the museums. It's a great way to get to know artists outside the the regular cannon.
Laura Muntz
One piece I'm particularly excited to see this year is a lovely portrait, Lady in White, by Laura Muntz, up for sale at Waddinton's Auction House. Muntz is considered part of the Canadian Impressionist movement. I would nuance that and describe her as a Tonalist and place her with artists like Andres Zorn, John Singer Sarger or Cecilia Beaux. Like these artists Muntz is showy with her brush work.
The portrait on view is a great example of this. There is an intriguing debate in the catalogue about the name of the sitter. Apparently the work was sold to the last owners as an official portrait of a Mrs. Reid. But the auction house argues that their is evidence in a book by the renowned scholar Joan Murray that the portrait was actually a former roommate of the artist.
In my own research I came across a secound painting of a woman in the same dress, called 'Woman Reading'. This would suggest the later story is true as it would be odd that the painter would supply the dress for a formal portrait.
More importantly the repetition of the dress tells us something about the artists focus. This isn't a portrait this is a fabric study. The dress of the sitter is a playground for the artist to make subtle temperature shifts and bold brush strokes! She's showing off her technique! I couldn't help recall the beautiful fabric studies of Leonardo di Vinci.
Helen McNicoll: Girl in the Field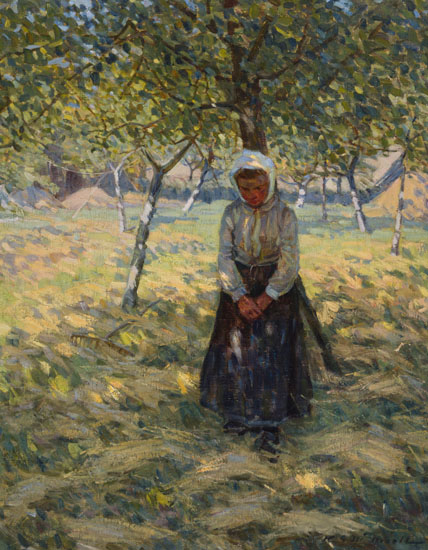 Another top pick is Girl in the Field by Helen Galloway McNicoll on view at the Heffel Fine Art Auction House. McNicoll is a turn of the century artist who is classified as part of the Canadian impressionist group. Like the other artist she studied in Europe and her work explores colour and brush work.
She paints women and children outdoors and it would be easy to group her with other 'women artists' like Berthe Morisot who painted a similar subject. I believe McNicoll would have wanted us to look beyond subject. I think she painted women and kids because that's what was respectable for a woman of her time to paint. But I'm going to be bold and argue that she wasn't really thinking about the kids.
Seeing her work I couldn't help but think about her in terms of the Group of Seven. Their subject is Northern Ontario but that's not what the work is about. It's all about style and self expression.
McNicoll is a bold painter. She plays a lot with strong contrasts of light and dark and cool and warm. In this painting she has her main subject in a cool shadow. Our eye is drawn to the girls face which matches the tree in tone but is set apart with it's orange hue (she's playing with the blue-orange complimentary). The larger shadow shape sits on the bright sunlit background. Her master stroke is the girls white headscarf. Although it sits within the large shadow it is about half a step lighter than anything else. It breaks the girl from the tree so that we can read her silhouette more clearly.
Jack Bush: Red Vision
Jumping ahead to post-war abstract art, Heffel has an intriguing Jack Bush titled Red Vision from 1958 on view. I love this piece because it shows us the artists thinking process.
This work represents the period right before he found his groove. In a work like this he is trying to think abstract. Bush was trained as an illustrator and had his own illustration studio. When he first started painting abstract works he would pencil in his shapes before painting them in.
When the American art critic Clement Greenberg saw his work he told him to lose the pencil. This first generation of Abstract Expressionism was all about the automatic process. No planning just make a mark and than respond with another (and another). It seems easy. But it's really hard to get yourself into a headspace where you are not planning!
I love the red blob because we can see how he massed it in. He probably started with a mark and than scrubbed his brush outwards to build this organic shape. Look at how the outline of the shape is frayed. These imperfect lines carry over into his later work. It gives his minimalist style a sense of energy and a human touch. This work is all about experimentation!
It is so easy to stick to what you already know. I have such admiration for artists like Jack Bush who spent their whole career pushing beyond their comfort zone and redefining their art.

Frederick Loveroff: Farm Scene

Visiting the auction preview at Consignor Canadian Fine Arts, I was introduced to the work of Frederick Nicholas Loveroff. I was quite taken by this lovely landscape called Farm Scene.
A contemporary of the Group of Seven, Loveroff was a Western Canadian artist with family roots in Russia. His paint handling and colour is similar to the Group of Seven artists but his composition is completely different.
Look how high the horizon line is! Two-thirds of the canvas is white snow! It's bold and radically different to the Group of Seven approach that favoured a silhouette composition. Artists like Tom Thomson are best known for works like the iconic Jack Pine where the design of the work centers on a dark foreground set on a light background.
What's so interesting about comparing these two works is that we can see how the landscape has guided the artists design choices. The prairies are defined by a sense that you can see the flat landscape for miles. By keeping the horizon high Loveroff gives his painting that expansive feel of the prairies. A region like Algonquin (where the Group of Seven famously painted) is a thick forest set against a large bright body of water. The comparison reminds us how much our environment influences our ideas!
Key Dates
This years live auction sessions will be held in Toronto on the following days:
Waddington's Live Auction: Monday, May 27, 7PM, 275 King Street East, 2nd Floor
Consignor Live Auction: Tuesday, May 28, 7PM, 111 Queens Park
Heffel Live Auction: Wednesday, May 29, 4 PM Post-War & Contemporary Art, 7 PM Canadian Impressionist & Modern Art , Design Exchange, Toronto